---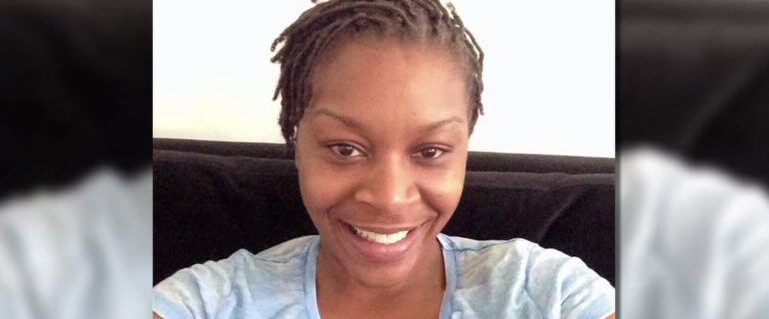 Could I Become the Next Sandra Bland?
The writer is haunted by the injustice of the 28-year-old's death, and the knowledge that the simplest act of defiance—even in an airport security line—could end in tragedy.
This article was made possible because of the generous support of DAME members.  We urgently need your help to keep publishing. Will you contribute just $5 a month to support our journalism?
My mother and I were recently flying through LAX. We watched as three White women passed through the full-body scanner at the TSA security line, with no fuss, before they got to us. My mother entered first. She followed protocol: raising her hands, and then stepping out of the scanner when she was asked. The TSA official said she had to search my mother's hair.
Because the TSA has an ugly, discriminatory history with scrutinizing Black hair, I was expecting a pat down on my long Senegalese twists. But I fully expected them to lay off my mother, whose hair is long, thin, and bone straight. The idea of her being able to hide so much as a pen in her hair is absolutely comical. But there was the TSA guard, with her claws up, ready to work through my mother's scalp. That's when my mother did what has now become the unthinkable: She refused.
I watched the TSA guard swell like an airbag with faux-institutional power, and at that moment I forgot myself, and started right through the full body scanner, hearing but not hearing the other TSA officer yelling at me, "Ma'am, ma'am, step back. Step back!" I was not going to let them take my mother from me. I know my anger could cost me my life—we are living in a climate where a Black woman can be brutalized or killed in custody and then blamed for her own death. But that was exactly why I was fuming. My instincts were locked and loaded, a simple chant thrumming in my head: Sandra Bland, Sandra Bland, Sandra Bland.
I haven't been able to get her out of my mind since the story broke. I was thinking about the world in which she came of age, during the George W. Bush era: Prairie View A&M, an HBCU in Waller County, Texas, a university built in 1876 on a former cotton plantation. This is a town with a long, gruesome history of racism, in a state that had the fifth highest number of lynchings in the 19th and 20th centuries. When Bland was a student at A&M, she bore witness to one of the most racist district attorneys lording over the county, Oliver Kitzman, who, among other crimes, employed elaborate strategies to abolish Black citizens' voting rights, and filing flimsy charges against Black community members. He threatened to prosecute Prairie View A&M students for voting in local elections, in direct violation of the Supreme Court ruling, even after the students had won a decade-long battle to have a polling place on campus. (Kitzman finally stepped down from his position in 2004.) The county is still monitored by the Department of Justice to ensure all citizens can vote. And, this took place not in 1964 before the Voting Rights Act was passed, but in 2004.
Now she was returning to the place a decade later, with a Black president finishing up his second term, to take a job at her alma mater. But nearly 500 yards from campus, she was pulled over for failing to use a traffic signal. And now she is dead. As we now have read, the official report claimed that after being arrested for assaulting an officer, and spending four days in jail, her depreciating mental state drove her to hang herself with a plastic bag.
After watching the dashcam footage, I took note of Bland's spirit. Texas State Trooper Brian Encinia noticed her irritated disposition, and asked her what was wrong. She told him she'd switched lanes to let him pass, but that was not going to stop him from giving her a ticket. Much later in the video, he said that he had never planned to give her a ticket, only a warning, but she just wouldn't stop running her mouth. So he chose to order her out her car. He threatened her multiple times. He assaulted her while yelling, "You're resisting arrest!"
Then, two more police officers arrived on the scene and they corroborated on-camera. "She kicked me," the officer said. "Yeah, there you got it right there," a female officer replied, pointing to his pant leg. And as all evil totalitarian institutions tend to do, he revises the truth for public record, creating the character of Sandra Bland, the loud Black woman who threatened him, who kicked him, when all he tried to do, he claimed, was his lawful duty. Officer Encinia, of course, will be protected under law. He could and did order her to step out of the car "for his own safety," and according to Texas law, Bland's refusal to do so was a crime. As always, context will not matter. The law cannot prove his racism, his misogyny, his bitter anger toward a woman who had the absolute gall to exercise her First Amendment right to express her indignation at getting a ticket—for, let's face it, rightfully being friggin' pissed.
Welcome to Blackwork Orange. We already have our dramatic false eyelashes and beautiful slang. Blackness lives in a dystopia, complete an institution built on the back of oppression, that prospers from widening class gaps and diminishing rights—every now and then parading a few "models" of rehabilitation around to keep its citizens believing that they deserve their ugly fate. In the Black dystopia, we are lawfully abused and/or exterminated for our vibrancy, for our stature, for our existence. Even more tragic, is the many Black women—Tanisha Anderson, Rekia Boyd, Miriam Carey, Michelle Cusseaux, Shelly Frey, Kayla Moore, and Ralkina Jones—who have accepted that since we cannot be invisible, we may die, and die alone. As our lives seem so disposable to the masses, but my mother's life would not be, my own be damned.
I believe my mother saw me coming, and that's why she agreed to let the official search her hair. I backed into the scanner, put my hands behind my head, watching out the corner of my eye with absolute disgust, as the official's fingers pushed its way through Mommy's delicate hair and latched onto her scalp, pinching in a way that any woman who has ever worn a weave would recognize as the search for tracks.
My mother and I sat waiting for our plane, and again I said her name: Sandra Bland. I thought of her actions, juxtaposed it with my mother's, with my own, and a cold sensation broke through my chest that all it would have taken was one TSA agent to demonstrate Encinia's aggressiveness, and both of us could have been apprehended, abused, and my six-foot-tall self could be found lynched in a five-foot-eight-tall cell. They could call it suicide, and perhaps successfully make the case, as I do take anti-depressants. Witnesses could dismiss Mommy and me as unruly, say that we should have "complied," and become two more loud-mouthed disrespectful Black women. Suddenly her legendary advertising career would not matter. My own credentials as a writer and professor would not matter. We would just be two more names to say and one more bandage added to our hearts.
Blackness is a dystopia, and I've yet to read a dystopian novel that didn't beg of collaboration across the many aisles to completely overhaul an oppressive system. We keep saying her name. We keep her memory alive. At one point or another, I hope everyone else hears us and joins in.
Before you go, we hope you'll consider supporting DAME's journalism.
Today, just tiny number of corporations and billionaire owners are in control the news we watch and read. That influence shapes our culture and our understanding of the world. But at DAME, we serve as a counterbalance by doing things differently. We're reader funded, which means our only agenda is to serve our readers. No both sides, no false equivalencies, no billionaire interests. Just our mission to publish the information and reporting that help you navigate the most complex issues we face.
But to keep publishing, stay independent and paywall free for all, we urgently need more support. During our Spring Membership drive, we hope you'll join the community helping to build a more equitable media landscape with a monthly membership of just $5.00 per month or one-time gift in any amount.
SUPPORT INDEPENDENT MEDIA
Become a member!
---