---
Erica Oyama Gets Paid To Spoof The Bachelor
The Burning Love writer has a glass of wine at 11am and then makes fun of reality dating shows. Nice work if you can get it.
This article was made possible because of the generous support of DAME members.  We urgently need your help to keep publishing. Will you contribute just $5 a month to support our journalism?
The Burning Love web series only debuted last year on Yahoo but already it's mandatory viewing. Inspired by The Bachelor and other dating competitions, writer and co-creator Erica Oyama satirizes the absurdity of scrapping for the affections of a total stranger while still retaining the frothy appeal of the original programs. It also gained so many fans that E! picked it up for a run on TV.
Oyama, it turns out, is deeply experienced in teasing out the ridiculous in current programming. She's worked as a writer for Children's Hospital, a surreal parody of Grey's Anatomy, and is now working with the CSI-franchise-spoof NTSF:SD: SUV, which stands for National Terrorism Strike Force, San Diego, Sports Utility Vehicle.
Back for its third season, which debuted last Friday on Yahoo, Burning Love is a collaboration between Oyama and her comedian-husband Ken Marino, who directs the shows and was also the star of Season 1 as the goofball Mark Orlando. She chatted with us by phone on Friday about working with her spouse, getting herself in the mood for writing and drinking wine in the mornings.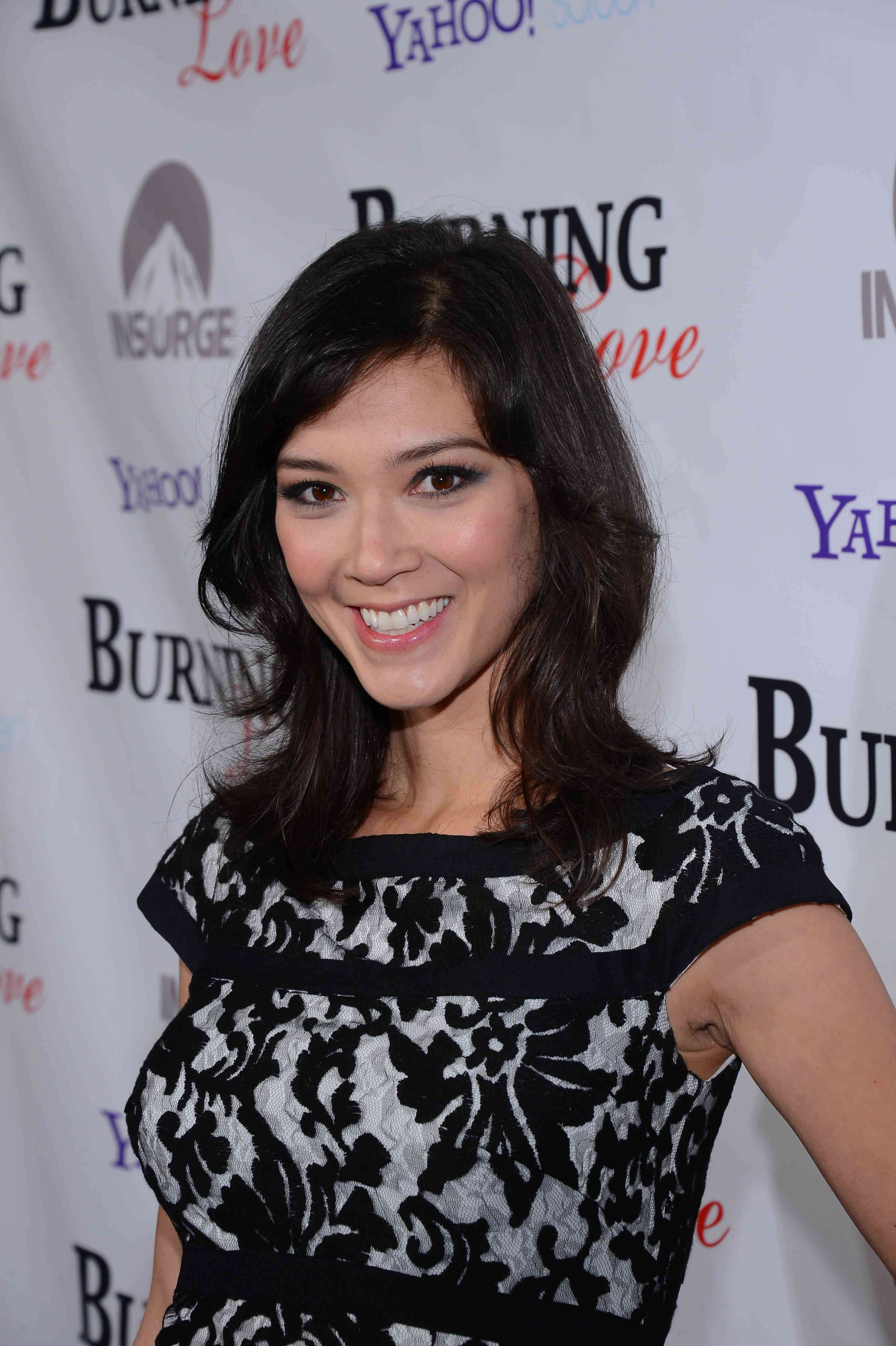 How did your obsession with The Bachelor start?
I just had my first child. I was sitting there trying to get him to sleep and I fell into watching the last episode of Brad Womack's first season. It's where he doesn't choose either girl. My mind was blown. I thought this was an amazing twist.
Aren't they always supposed to pick someone?
I emailed that question to my friend who was an associate producer on the show and she said, "Well, maybe he's smarter than we think."
How do you go about satirizing something that's already so nutty?
There are people who watch those shows sincerely and then there are people who watch to make fun of them. I fall in the middle of those two groups. I love it but I also know that it's ridiculous. I try to find things that are ridiculous and exaggerate them just a little bit, but not a lot. Maybe the reason people enjoy Burning Love is because it's a loving tribute as opposed to just tearing it apart.
In the new season of Burning Love, the female contestants are judged on the hugs they give to the guys. How did you come up with that?
The Bachelor Pad series had this kissing contest. It was very controversial. People would be blindfolded and have to make out with each other. People would say, "Ugh, this is gross, I don't want to do it" and they'd just give little pecks. Then there'd be these other girls who would say, "I'm going for it" and they'd just thrust their tongues into everybody's faces. I thought the more ridiculous version would be for these girls to really go for it with a hug.
I love how one of them worries she's cheating on her man by barely hugging another dude.
Yes, but then her man says it's OK, as long as she's thinking about him while hugging the other guys.
And the contestants are competing for $900. That's basically a month's rent for a crappy studio apartment in LA.
Right, but then after taxes, even less! That was just the funniest number to me. It's not even $1,000. We went back and forth because some of our producers were like, "That just seems so stupid. Can't it be $5,000?" And I was like, "No, that seems almost too real."
What's the writer's room like at Burning Love? Wait – is there a writer's room?
It's just me! Basically it's me saying to Ken, "Take the kids to the park so I can do this," and then I have a glass of white wine at 11 am. We did two seasons at once and I had to write 14 episodes per season. It was a little daunting but we got through it.
You've had a few episodes with Ben Stiller in past seasons, and his production company, Red Hour, is behind Burning Love. What's he like to work with?
He's been very supportive. He came and visited the set when his wife Christine Taylor shot her scenes for Season 3 and he said, "I'm getting so many compliments about the show!" And we were like, "Oh, that's wonderful to hear, sir!" while sweating and bowing profusely.
How does Burning Love compare with Children's Hospital?
Burning Love was a little more run-and-gun than Children's. Children's started as a straight-up parody of Grey's Anatomy and has steadily gotten more ridiculous. It's so fun and free to not have to follow any sort of continuity. Like one week this person is married with children and then the next week they don't have a family anymore. Burning Love has to stick to a linear trajectory.
What kind of reaction do you get from fans of Burning Love?
In the last year, it's come a long way. Now people have heard about it or they saw it on TV. Having it be on E! brought it to a different level, a whole new wave of people found out about it. And a lot of those people were confused about it, whether or not it was real.
Wow, really?
Ken and I like to go on Twitter or the Yahoo site and read the comments from people who think it's real and are so confused by the show. They are really angry that society is headed in this direction. They'll say, "How could people be so stupid to be on a show like this? Is this actually real?" It's entertaining and then it's also sad.
I guess it just goes to show that reality TV has blurred those kinds of lines.
Right. When we were shooting it we really wanted it to look and feel like a true reality show. So I guess we succeeded.
Your husband in his Wanderlust role as Paul Rudd's older brother just had me in stitches. Is it non-stop joking between you guys over the breakfast table?
He's on a lot of the time. I don't feel like I'm on as much as him but yes, we have fun. A lot of people ask us how we can work together too, like, "oh, that's a lot to do with one person," but there's nobody else I could've done this with. He's nothing like that Wanderlust character, by the way.
What are you working on now?
Ken and I just got this job to write the film script for Go The Fuck to Sleep. We're so excited about that.
Any initial ideas about how to tackle that kind of book? It's only eight pages, right?
I don't think we can talk about it yet. But we definitely have a lot of experience as under-slept parents. It's a great book to read to yourself to know that you're not crazy and that you're not alone.
Before you go, we hope you'll consider supporting DAME's journalism.
Today, just tiny number of corporations and billionaire owners are in control the news we watch and read. That influence shapes our culture and our understanding of the world. But at DAME, we serve as a counterbalance by doing things differently. We're reader funded, which means our only agenda is to serve our readers. No both sides, no false equivalencies, no billionaire interests. Just our mission to publish the information and reporting that help you navigate the most complex issues we face.
But to keep publishing, stay independent and paywall free for all, we urgently need more support. During our Spring Membership drive, we hope you'll join the community helping to build a more equitable media landscape with a monthly membership of just $5.00 per month or one-time gift in any amount.
SUPPORT INDEPENDENT MEDIA
Become a member!
---