---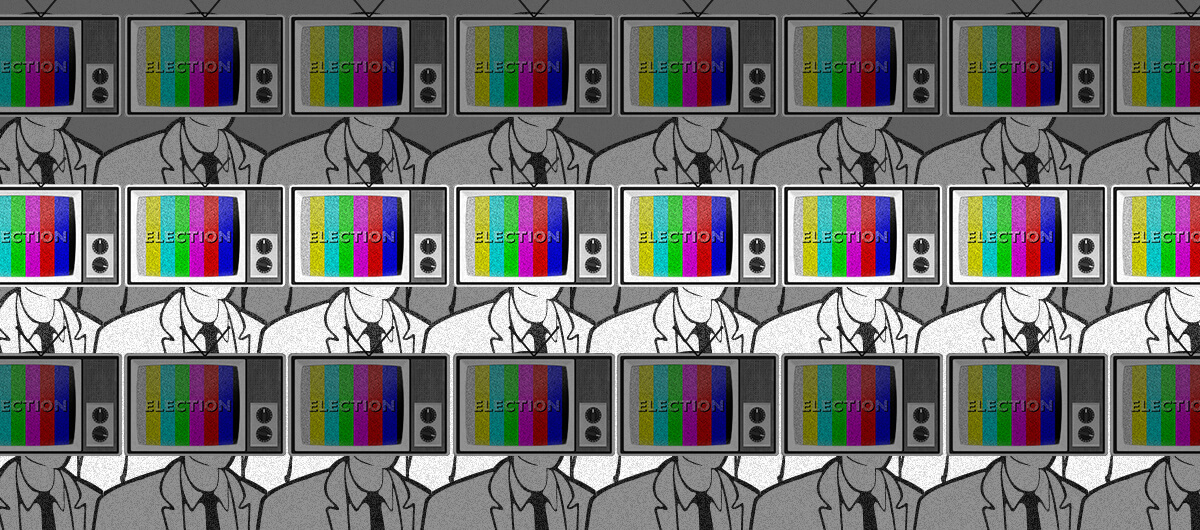 We Can't Have a Repeat of Election 2016
Republicans may have dumbed down politics, but the mainstream media, with its embrace of a good guy/bad guy narrative and its refusal to focus on the issues and interrogate problematic candidates, is the real culprit in the demise of our democracy.
This article was made possible because of the generous support of DAME members.  We urgently need your help to keep publishing. Will you contribute just $5 a month to support our journalism?
The number 32 has lived rent-free in my head for almost seven years because it is so absurd and embarrassing and outrageous that my brain hasn't been able to let it go. That's the number of minutes that the major broadcast news networks (ABC, CBS, NBC) spent on issue-based coverage of the 2016 presidential campaign. 
Thirty-two minutes was all the coverage devoted to our crumbling infrastructure and the role of the Federal Reserve. Those minutes include every moment we spent on climate change, reproductive rights, policing and safety, transportation, racial equity, international politics and the disintegration of the postwar order, the Supreme Court, and voting rights—combined. Across more than ten months of election coverage, with one of the weightiest decisions before the American people—about who would lead the nation, the federal government, into the next phase of the 21st century—we received only 32 minutes of real and serious understanding with which to make our choice. And with 2024 looming in a few short months, it doesn't look like this cycle will be any better.
On one side, the Republican primary is a group of unserious charlatans and petty autocrats gathered together to argue that they are perfectly adequate replacement cult leaders for the clown-in-chief and swindler supreme, just in case any of the multiple indictments hanging over him ultimately prove too heavy for him to wriggle out. The GOP debate stage is allergic to policy, to seriousness, to governance in any form. The point of gathering these dimming luminaries of conservative political thought, such that it is, relies entirely on spectacle and show. The party base has been so untethered from reality for so long that what counts for policy might as well be a manifesto written in red sharpie. Not one of the Republican candidates in this contest is offering ideas: At best, they're providing catharsis; at worst, they're dooming democracy.
This failure of GOP governance could be covered as an absence of fundamental principles, or the replacement of intellectual endeavor with hollow doctrine, or simply a dying party's bid for relevance gone horribly, horribly awry. Instead, we will continue to get stories about debate momentum and campaign shake ups, spending and strategy and staffing and slogans, and we will ignore the substance of what it means to run an organization, how federal administration actually works (and doesn't), who is making the first and second and third order decisions that eventually find their way to a president's desk, and why we bother to repeat this process every four years. If Republican voters have forgotten the purpose of campaigns, we are told, then media coverage can only ever share the spectacle of them.
But that is a little too much blame for the chicken being born from an egg. The Republican Party has given up governance and substance and purpose, but they have paid no penalty for doing so. Horse-race coverage encourages a dazzling emptiness from elected officials and leaders, because everyone is rewarded for what they seem to be and penalized for what they are. In the time since the first GOP debate, climate disasters have turned Maui to ash and forced insurers to flee Florida; waves of increased COVID infection have started sweeping through major populations just in time for the start of school, and yet another episode of white supremacist terrorism took more lives and permanently altered others. Still, neither current nor aspiring officeholders have explained how their leadership would have changed or prevented these pivotal issues because few, if any, reporters on the campaign beat have asked. Maybe it's because the answers won't fit the narratives they've already started to write; possibly it's that there are no readers who will click the link or check the copy; or, more damning, it's because nothing will change, regardless of what candidates say or reporters write because voters won't care anyway.
The assumption that citizens can't or won't do the work of directing the country destroys the earnest and competent as much as it enables the cruel and feckless. Despite being a shrewd and veteran politician, President Biden is as trapped by the disinterest-driven circus as the rest of us. For all the substantive victories he has provided or fought for—the Inflation Reduction Act and the greatest federal contribution against climate change, Medicare's new authority to negotiate drug prices, a historically low unemployment rate, a revitalized labor movement, and the Child Tax Credit—Biden is still trapped in a relatively even battle with a four-time indicted con man whose last pass with power led to an armed attack on Congress in an attempt to overthrow the government and install himself as dictator. Government may require a thoughtful mind, a steady hand, sharp insight with sharper reflexes, and a strong and clear vision that can rally the people who will make it possible, but the show merely needs a protagonist, an antagonist, drama, and stagecraft. As long as we're invested in the latter over the former, Biden and Trump are just placeholders for either of the first two roles, and everyone else supplies the rest.   
This is the way democracy dies: with apathy and neglect, hollow spectacle and easy narratives. Without reward for substance and punishment for frivolity, the two can too easily be reversed; our political media reveres the appearance of leadership more than the fact of it. Get the optics right, and it doesn't matter whether the policy can match, whether it correctly identifies the problem or solves it, whether people thrive or die with its passage. All campaign coverage will notice is whether the idea—ephemeral or tangible—can be sold, and at what level people will buy in. So it's easy to believe that the solution to the ills of the healthcare system are to "repeal and replace" the ACA, or that we can  "drill, baby, drill" our way out of the climate crisis or that once we "invade Mexico," drugs and immigration will solve themselves. But we don't know the real viability of these policies—what they will ask of us, what we will give for them, what else must be built or destroyed to accommodate them—because they aren't meant to be inspected, understood, effected. They are just slogans to be consumed.
It is a moment for us to disgorge the unseasoned politics we have been fed. This side of Labor Day brings us a new political cycle: children back in school; Congress back in session; campaigns activating in earnest. In two months, there will be a scattered handful of elections across the country: governorships in Kentucky, Mississippi, and Louisiana; state legislatures in New Jersey, Virginia, Mississippi and Louisiana; Constitutional updates in Ohio and Texas. Two months after that, there will be presidential primaries to let Republican voters take their pick as to who will face an incumbent Democratic executive in the fall. And in just over a year from now, we will have to choose which way we will take this country, seeing the boundaries that have stopped us and knowing its problems as we do. We will endure months of informational bombardment, pressing and politicking and disinformation and implied and explicit violence, and we will have to sift through all of it to find a leader who can take us where we need to go. If we are ready, it will be a serious discussion—about who we are and who we want to be, about the choices we are willing to make and the sacrifices we must accept, about what it means to see a brighter future and what it takes to make it happen. But if we are not, we will have nothing to do, nothing to process, nothing to understand or accept. We will only be able to sit back, helpless, and watch the show.
Before you go, we hope you'll consider supporting DAME's journalism.
Today, just tiny number of corporations and billionaire owners are in control the news we watch and read. That influence shapes our culture and our understanding of the world. But at DAME, we serve as a counterbalance by doing things differently. We're reader funded, which means our only agenda is to serve our readers. No both sides, no false equivalencies, no billionaire interests. Just our mission to publish the information and reporting that help you navigate the most complex issues we face.
But to keep publishing, stay independent and paywall free for all, we urgently need more support. During our Spring Membership drive, we hope you'll join the community helping to build a more equitable media landscape with a monthly membership of just $5.00 per month or one-time gift in any amount.
SUPPORT INDEPENDENT MEDIA
Become a member!
---