---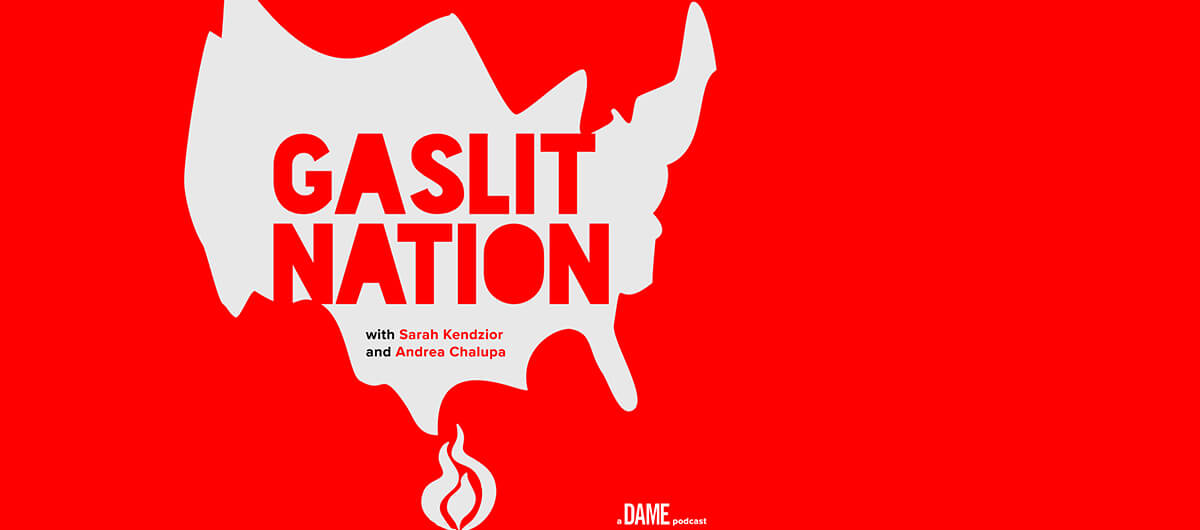 Our Elections Are Not Secure, But We Can Fix It
This week's episode of Gaslit Nation has special calls-to-action you won't want to miss: #FreeSentsov, #ManaGuilty, #VerifiedVoting
This article was made possible because of the generous support of DAME members.  We urgently need your help to keep publishing. Will you contribute just $5 a month to support our journalism?
Gaslit Nation episode four is here! In this episode, Sarah and Andrea interview Barbara Simons PhD, a computer scientist who specializes in election security, to answer the question on everyone's mind: can our voting machines be attacked? Were they attacked in 2016? What's in store for the midterms, and what can we, as citizens, do to protect our democracy?
Here's an excerpt of what Simons, a former IBM researcher and the co-author of Broken Ballots: Will Your Vote Count?, had to say:
What we do know is that a couple of the voter registration databases were broken into, we do know that Russia was poking around in a number of the databases and for all we know, the voting machine systems. When probing like that happens, even if they didn't break in – and we don't know if they did or not in many cases – they could be setting themselves up to do it in the future. We actually don't know what happened for sure in 2016 because there was no proper forensic analysis done after the election, and in some cases you couldn't do a forensic analysis because they were paperless systems. We don't know what happened. I'd rather not focus on that. I'd rather focus on the fact that we know that our country is under attack and we have to move forward and put in the necessary protections so that our country is safe in the future.
In the interview, Simons gives a lot of great advice about election security and what citizens and officials should do. One thing you can do is visit her website, Verified Voting – a non-partisan, non-profit organization that promotes accuracy, transparency, and verifiability of our elections. Their website allows you to look up your state and learn what equipment and ballots are being used. We at Gaslit Nation encourage you to learn more about election integrity in your area – and to get out and VOTE!
A great site that's like a personal assistant for helping protect our democracy, Crush the Midterms, will give you a personalized plan to help create the blue wave in time for election day, November 6. And don't forget to make sure that you're registered to vote by clicking here.
In a special appeal made on this week's episode, we encourage you to learn more about Oleg Sentsov, a political prisoner who is on his 100th day of a hunger strike to demand the release of the estimated eighty-eight political prisoners being held inside Russia over the war in Ukraine. Read Andrea's 2015 piece in the Daily Beast and watch the video of the discussion she moderated with Pussy Riot's Maria Alyokhina and Natalia Kaliada, founding co-artistic director of the Belarus Free Theatre, at an event by PEN America to raise awareness aboutSentsov's plight. Here are ways to help demand his release, and we encourage you to share this week's episode with the hashtag #FreeSentsov.
About the hosts:
Andrea Chalupa is a journalist and the author of Orwell and The Refugees: The Untold Story of Animal Farm. She has written for TIME, The Atlantic, The Daily Beast, and Forbes. She is a founder of DigitalMaidan, an online movement that made the Ukrainian protests the #1 trending topic on Twitter worldwide. Her first film, about the story behind George Orwell's Animal Farm, just finished shooting in Europe.
Sarah Kendzior is best known for her reporting on St. Louis, her coverage of the 2016 election, and her academic research on authoritarian states. She is the author of The View from Flyover Country, a regular commentator on MSNBC, and an op-ed columnist for The Globe and Mail. She was named by Foreign Policy one of the "100 people you should be following on Twitter to make sense of global events."
Before you go, we hope you'll consider supporting DAME's journalism.
Today, just tiny number of corporations and billionaire owners are in control the news we watch and read. That influence shapes our culture and our understanding of the world. But at DAME, we serve as a counterbalance by doing things differently. We're reader funded, which means our only agenda is to serve our readers. No both sides, no false equivalencies, no billionaire interests. Just our mission to publish the information and reporting that help you navigate the most complex issues we face.
But to keep publishing, stay independent and paywall free for all, we urgently need more support. During our Spring Membership drive, we hope you'll join the community helping to build a more equitable media landscape with a monthly membership of just $5.00 per month or one-time gift in any amount.
SUPPORT INDEPENDENT MEDIA
Become a member!
---