---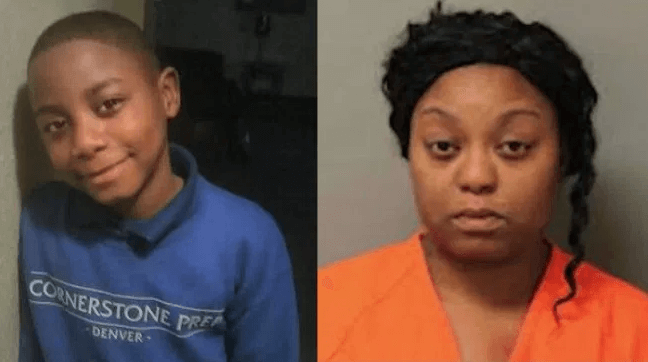 Jaheim McKenzie, left, and mother, Robin McKenzie.
Jaheim McKenzie, left, and mother, Robin McKenzie.
Are Black Children Killing Themselves To Avoid Abuse?
The suicide rate for Black boys has doubled in the past 20 years. In cases like 10-year-old Jaheim McKenzie's, who allegedly stabbed himself, it may be a desperate escape from whuppings.
This article was made possible because of the generous support of DAME members.  We urgently need your help to keep publishing. Will you contribute just $5 a month to support our journalism?
When I was around 8 or 9 years old I tried to kill myself.
Twice.
The first time, I threw myself down a narrow flight of carpeted stairs. The second time, I tried to poison myself by drinking peroxide. I had to lie to my adoptive mother about the limp, the twisted ankle, and the burns on my mouth and throat. The truth that I had intentionally tried to hurt myself would have led to another whupping.
I don't think I had yet learned the term "suicide" or fully understood that it would result in the permanent end to my life. I was desperate. I was in pain and full of repressed resentment and rage. But I could not take revenge on my adoptive mother so I turned it onto myself in a futile attempt to take control over my own body and fate.
I was tired of being on the receiving end of belts, switches, extension cords, wire hangers, and my adoptive mother's violent hands and harsh words.
Tired of being afraid and constantly feeling unsafe at home and walking-on-eggshells anticipating the next whupping. Tired of being denied bodily integrity. And so I'd rather maim myself or die than suffer again at the hands of the woman who was supposed to love and protect me.
I figured if I hurt myself bad enough then she would see that I had been punished enough and would never hit me again. She might even care for me at the sight of my being injured. And if I died, then I'd never feel pain again.
Each time my adoptive mother hit me, especially with an extension cord, I told myself: "I cannot survive this." I felt like I lost a sense of myself. My self-esteem was in the gutter. The anger, the powerlessness, and the hopelessness led to suicidal ideations.
Fortunately, I failed at my attempts to die.
This was 30 years ago, back in the 1980s. But this story isn't just mine and it's not just a thing of the past. Devastatingly enough, we see it happening over and over again—and far too many kids have succeeded in ending their life to avoid parental violence.
While researching my latest book on corporal punishment in Black communities, I came across scores of disturbing stories of children in the United States who've attempted suicide—some successfully ending their lives—following corporal punishment.
One story in my research files was about an 8-year-old boy named Jushua Terrell, a third-grader living in Crosby, Texas, in 1989. He said he wanted to die because he had been paddled at school by a principal for horseplay and talking in class.
"At first I wanted to break every window in the school," he said. But then he turned the anger on himself. "I thought if I killed myself, then at least I wouldn't have to go back to school," he said, staring at the tops of his sneakers. "For three weeks that's all I could think about."
Jushua was considering either hanging himself from his living-room balcony with a jump rope or swallowing a bullet from his father's shotgun —"if I could reach the trigger and do it in the woods, so I wouldn't mess up the house."
Fortunately, a teacher overheard him sharing his plans with classmates and notified his parents. They took Jushua to see a therapist, who confirmed that their 8-year-old was extremely depressed and needed treatment.
In 1998, 8-year-old Christopher Lamar Parks shot himself in the head with a .22-caliber handgun while his mother went to get a switch to punish him for receiving a poor report card. The superintendent at the elementary school, where he attended third grade at the time, said "I remember when I was 8. I don't know of anything that would make me think of this."
Kathy Darbyshire is a survivor of multiple suicide attempts: She first tried to to kill herself at age 7 by trying to stab herself with a butcher's knife. As a child, Kathy was hit by her father almost daily. She said she was always lonely, angry, and afraid, and suffered from ongoing nightmares and anxiety. Her struggles have continued into adulthood, as she's been diagnosed with depression.
In March 2016, a teenage girl committed suicide on Facebook live. Naika Venant had endured abuse in more than a dozen foster homes, group homes, and shelters. She hanged herself in the bathroom of a foster home in Florida. "According to a report from state child welfare officials, the teen was suffering under a dysfunctional and abusive relationship with her mother and was failed by a foster care system that was unable to meet the needs of a severely traumatized child," reported The Washington Post. News reports also indicated that her mother, who had left more than 30 welts on her body from a belt beating, cheered her own as she took her life.
Last week, Jaheim McKinzie, a 10-year-old Black boy stabbed himself in the chest after his 31-year-old mother choked and beat him with an extension cord. After his mother, Robin McKenzie, called 9-1-1, the first responders found the boy bleeding from a chest wound. She confessed to attacking him and was arrested on aggravated child abuse charges. He died an hour later from his injury.
As we often hear in the aftermath of these child murders, a neighbor called McKenzie "a good mother" and said "her son was her life."
The reaction on social media has highlighted part of the problem. Some have expressed disbelief that a 10-year-old had the physical ability to stab himself in the chest. Others speculated that Jaheim's mother probably did it, claiming that they wouldn't believe that he committed suicide until they saw the autopsy report to prove that fatal wound was self-inflicted.
"Seems strange to go and stab yourself in the chest as a means of committing suicide. I may need to follow this case … If she was angry enough to assault him like that then whose to say she didn't stab him?," one person noted on a Facebook thread that I was tagged on.
"If you beat a child with a extension cord … it's not a stretch to think you are evil enough to stab him and blame him for his own death," another commenter wrote on Essence magazine's Facebook page . Other commenters blamed the boy (and social media), dismissing suicide as evidence of "weakness."
"Social media making these kids soft period I was scared to kill myself cause my momma was gon' beat my ass," a male commenter wrote.
Along these lines, some people gave personal testimonials about how they got whupped but they never thought about killing themselves because they were "strong." It is clear that many people are in denial about the fact that young children do kill themselves—and that physical punishment can drive them to that point.
This narrative casts suicide as a sign of weakness, as antithetical to childhood, masculinity, and blackness. Conversations like this see suicide as problem of white America and silences important conversations about mental health and physical punishment of children within the black community.  Likewise, the narrative that consistently sees beatings as "tough love" and harmless "loving" and "responsible" discipline, is part of the problem.
But in the United States, suicide is the second leading cause of death for young people age 10 to 24. According to a 2015 report from the Journal of the American Medical Association, suicide rates among Black children has doubled within the last 20 years, while suicide rates among White children have fallen. The CDC corroborates this—prior to that study, they released information that showed the suicide rate of Black boys between the ages of 5 and 11 doubled between 1993 and 2013.
I often hear people say, "There's a difference between spanking and abuse." But the only difference between the two is the spelling. Both involve intentional hitting to cause pain and both place kids at elevated risk of all kinds of social, psychological, and physiological damage. We have more than 50 years of scientific research to show that spanking is just as harmful as more severe forms of hitting.
Science provides important insight about the impact of child abuse. Research that tells us that hitting a child—even just swats on the butt—can change the brain's chemistry and lay the foundation for a low IQ, aggression, emotional regulation issues, depression, and other negative outcomes.
Those brain changes are very real. There is plenty of research on the neurobiology of depression and the link between corporal punishment. Kids respond to stress by secreting stress hormones. For far too many kids, corporal punishment produces an endless cycle of stress.
Researchers have pinpointed exposure to violence and traumatic stress, as well as aggressive school discipline and physical punishment at home, and a higher likelihood of early-onset puberty, which is also triggered by stress and violence. Too many children are dying either at the hands of their parents, or at their own hands to avoid parental violence against their young bodies.
When you or someone else is driven to physically hurt a child in order to punish them, it hurts the child both mentally and physically. The child now thinks that it is okay to be physical if they are acting out, and they consequently have a lower self-esteem and are more likely to do destructive things as they become older.
The idea that spanking a child can lead to delinquency and other psychological issues or suicide is hard for many people to fathom because hitting children is so routine in this culture. Children are at the mercy of the adults in their life. Hitting a child puts them at serious risk for physical and psychological injury because they have to endure being assaulted without any form of release. As a result, they are likely to act out in a way they can control, and sometimes that means deciding whether or not they are going to continue living.
No parent wants to believe they have the potential to drive their kid to suicide. And some people believe that their child is "too strong" to commit suicide—an attitude that is in line with the larger racist thinking about Black bodies and strength, irrespective of age.
Black children live in a world where their feelings are denied. They are not given adequate space to express that pain or provided safe spaces. They are rarely afforded medical intervention or given necessary medicines to thwart pain, as studies have shown.  A disproportionate number of them are beaten in public schools each year. Far too many politicians, teachers, members of the criminal justice system, and parents argue that Black children—especially boys—deserve harsher punishment. Our children are exposed to a social media culture where people are constantly arguing that "these kids today need more whuppings." They are exposed to adults shaming and beating kids in exchange for validation of that violence in the form of clicks and likes.
In such a world, where violence and abuse is normalized where the toxicity of white supremacy harms Black children daily, should it surprise us that our children are struggling with depression and suicidal ideations? Tragically, the example of 10-year-old Jaheim McKinzie is a reminder that we must face these ugly, painful truths before we can begin to address these problems plaguing our communities and our nation.
Kids are human. They respond to pain in very human ways and they, too, can feel hopeless enough to take their own lives. We have to admit the facts of abuse and the damage it causes so that we can improve and maybe save some precious young lives.
Before you go, we hope you'll consider supporting DAME's journalism.
Today, just tiny number of corporations and billionaire owners are in control the news we watch and read. That influence shapes our culture and our understanding of the world. But at DAME, we serve as a counterbalance by doing things differently. We're reader funded, which means our only agenda is to serve our readers. No both sides, no false equivalencies, no billionaire interests. Just our mission to publish the information and reporting that help you navigate the most complex issues we face.
But to keep publishing, stay independent and paywall free for all, we urgently need more support. During our Spring Membership drive, we hope you'll join the community helping to build a more equitable media landscape with a monthly membership of just $5.00 per month or one-time gift in any amount.
SUPPORT INDEPENDENT MEDIA
Become a member!
---